2017 International Student Award Winner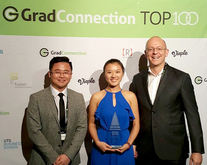 In the world of university students, what does it take to be the best of the best?
Every year GradConnection, in conjunction with the Australian Financial Review, aim to find out.
The GradConnection Top100 Future Leaders Award is a national award that seeks out top students from Australian universities.
Out of thousands of high calibre applicants across the country, Fusion Graduate Consultancy takes each of them through a full graduate recruitment process involving online applications, psychometric testing and video interviews. The final candidates are then flow to Sydney to attend the final assessment centre, with winners being selected by some of Australia's leaders in the graduate employment space.
For the second year running, Performance Education Group sponsored the 'International Student Award' that recognises the most outstanding international student. Performance Education Group works closely with international students, understands the challenges they go through in a country new to them, and help them with development of employability skills so they can achieve career success.
After rigorous testing, the three nominees for the award were narrowed down to Arslan Nizami from Griffith University, and Rohit Balachandran and Xueting Wang from University of Sydney – all outstanding and commendable students in their own right.
At the Top100 Awards Ceremony, the 'International Student Award' winner was announced – Xueting Wang from University of Sydney! Xueting displayed a high level of communication skills, a passion for her chosen field and a commitment to ongoing learning and development.
Currently a University of Sydney behavioural and experimental economics student, Xueting is also a research assistant and plans to continue to do research at the university. She wants to continue her passion for research for at least the next 10 years before possibly going into a consultant role where she can apply her research findings to solve real world problems.
Xueting has also interned with the Chinese government and Bank of China previously, and volunteered in several areas including as a peer mentor and in running a festival. She loves travelling and has travelled a lot including to Columbia University in New York for an exchange program.
Congratulations to Xueting and we wish her all the best with her future endeavours! Meanwhile, what's up next for her will be collecting her prize – a Professional WIL Placement (Internship) Program which includes a 12 week work integrated learning placement with a host company in Sydney, sponsored by Performance Education Group.