Performance Education Group Acquires Readygrad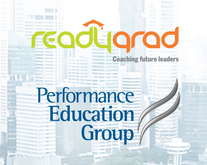 Performance Education Group is delighted to announce the acquisition of Readygrad.
Readygrad is a market leader in employability training programs for graduate and undergraduate students.
They partner with universities, schools, colleges and professional associations to build student employability through a range of face-to-face and online programs with an employer perspective.
Founded in 2012 by experienced graduate recruiters, Readygrad has delivered programs to more than 6,000 students across 15 universities and other education providers.
Performance Education Group (PE) is a Registered Training Organisation focused exclusively on graduate employability. Established in 2006 to improve the careers of young professionals in Australia, we work with students, universities and corporates across Sydney, Melbourne and Adelaide to develop much needed employability skills through training and Work Integrated Learning (WIL) programs. With deep industry connections to 3,000 host companies, we have been able to lift the employability of over 11,000 students with strong measured employment outcomes.
The combination of the two organisations, creates the largest dedicated graduate employability specialist in Australia.
Executive Chairman of PE, Andrew Mills, said "the acquisition of Readygrad will help accelerate PE's strategic vision for the business which is centred around offering a suite of services to address graduate employability".
Owen Firth, CEO and founder of PE said that "Readygrad brings a wealth of graduate employability expertise, sourced from employer and recruiter perspectives, so aligns well with our origins and mission. They also have built a respected reputation with the university and tertiary education sector".
Rohan Holland, a co-founder of Readygrad, will continue in his role as Readygrad General Manager, reporting directly to Owen Firth. Rohan commented, "This is a great opportunity to join forces with another market leader in this growing graduate employability sector and will allow us to continue to expand our programs around Australia and overseas".